news
Published on November 6, 2018
Red River Delta Int'l Agriculture Fair draws more than 300 exhibitors
VOV
The Red River Delta International Agriculture Fair opened in the northern province of Thai Binh on the evening of November 5 as part of activities within the framework of the national trade promotion program in 2018.
Addressing the opening ceremony, vice chairman of Thai Binh provincial People's Committee Nguyen Hoang Giang said since 2005 the annual fair has lured a large number of domestic and foreign businesses. This year's event drew more than 300 exhibitors to display their products on 400 stands.
Besides, specific exhibition spaces are also set up to present socio-economic and cultural achievements of Thai Binh city and districts, promote trade and investment and exhibit pets and ornamental plants.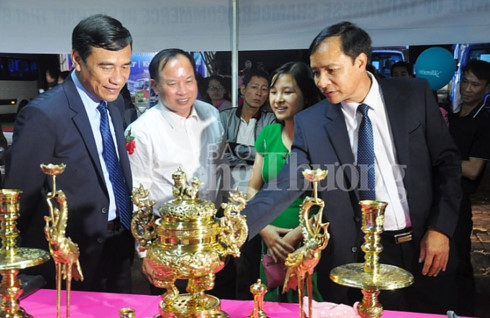 The fair offers a good chance for attendees to introduce their products, seek partners and sign more contracts. It also helps farmers realize new development trends of agricultural and fishery industries and the need to make their products more competitive in the international integration process.
Vice director of the Trade Promotion Agency under the Ministry of Industry and Trade Hoang Minh Chien said the reputable fair introduces the economic potential of Red River Delta provinces while helping boost agricultural development and drawing investments into industries, agriculture and services and contributing to sustainable rural and agriculture development in the region. It also strengthens trade connectivity between Vietnamese and foreign businesses.